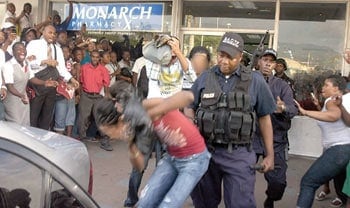 A terrifying scene from Jamaica yesterday.
Jamaican police had to fire tear gas into a crowd of 2,000 people in St. Andrew after they had gathered around a pharmacy because three men whom they had branded as homosexual were hiding inside.
The police were reportedly taunted as they ushered the three "visibly terrified" men out of the pharmacy and into police vehicles. One of the men was hit with a stone as he was escorted to a waiting van (above).
According to the Jamaica Observer, "One man in the crowd was determined to get a chance to beat them and hurled insults at the police when they drove out of the premises. 'Unu can come save them nasty boy yah? Them boy yah fi go down,' the man bellowed."
Another woman told the paper: "Jamaica has lost its way if men think they can openly flaunt being gay without any consequences. We don't want that kind of open gay life in this country."
In Jamaica, homosexuality is punishable by up to nine years in prison.
Cops save three alleged homosexuals from angry crowd [jamaica observer]