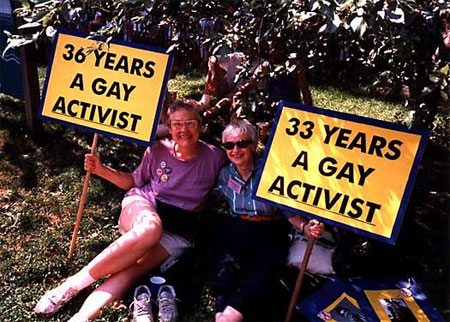 The gay rights movement has lost one of its heroes. Pioneering activist Barbara Gittings died on Sunday after a battle with breast cancer. She was 75. Gittings fought tirelessly thoughout her life to advance the rights of gays and lesbians.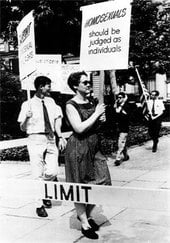 She was an early member of one of the earliest lesbian rights organizations, the Daughters of Bilitis (named for a French poet's fictional contemporary of Sappho), and helped organize, and picketed in the first gay rights demonstrations outside the White House and Philadelphia's Independence Hall in 1965.
The Daughters of Bilitis was formed in 1955 as a response to the raids on then-illegal lesbian bars, and it was in this group that Gittings met her partner Kay Lahausen (above right).
The group published a "lesbian review" called The Ladder.
The 1965 march (in which Gittings marches in the photo proudly holding a sign that reads "Homosexuals should be treated as individuals") is seen by many as the birth (pre-Stonewall, mind you) of the modern gay rights movement.
She was a leader for many years of the American Library Association Gay Task Force and pushed hard for the inclusion of gay content in libraries, and in 2003, the association recognized her with its highest honor.
Gittings was also a major force in the campaign to get the American Psychiatric Association to drop homosexuality from its list of mental disorders, which it did in 1973.
For those interested in learning more about Gittings (as well a four other important gay rights heroes), she's profiled in the excellent 1998 Jeff Dupre documentary Out of the Past: The Struggle for Gay and Lesbian Rights in America
.
She will be missed.
Out of the Past [pbs]