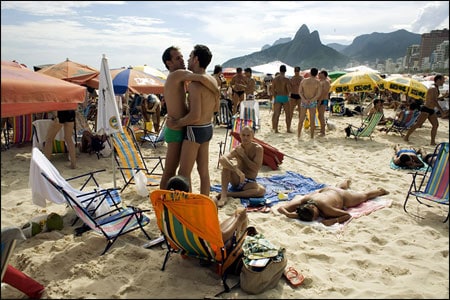 The NYT today takes a look at the segregation of Rio de Janeiro's beaches, and finishes with a note that any of you headed down to Rio for Carnival may want to make note of:
More recently, gays have staked out an area near Posto 9, which now flies the rainbow flag that is the emblem of their movement.

"Why, after years in which homosexuals congregated discreetly near the Copacabana Palace Hotel, do you all of a sudden have a gay beach at Farme de Amoedo Street?" Ms. Farias, the author, said. "It's because groups use the beach to acquire visibility, to say 'Hey, I'm here, too.' In order to do that, they need a spot on the beach that they can say is theirs."
And the pictorial edition of the story…
If Rio's not your thing, you may want to head to Floripa, which Made in Brazil notes "has become as big a gay destination as Rio for Carnival". Those headed in that direction may want to check out their list of gay Carnival activities.
Anyone with other tips for Brazil travelers, leave them in the comments…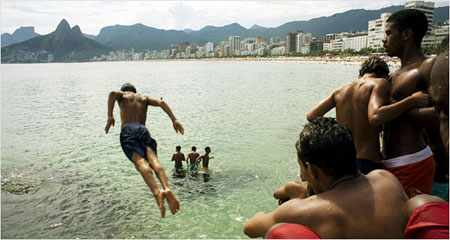 You may have missed…
Boys from Brazil: Happy Endings [tr]
Boys from Brazil: Holiday in Rio [tr]
Boys from Brazil: Giving Good Face [tr]
Boys from Brazil: Towleroad Hits Rio de Janeiro [tr]