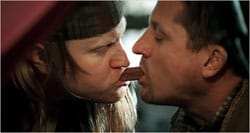 The Snickers ads and the offensive reactions to them from NFL Super Bowl players have been pulled.
Alice Nathanson, a spokesman for Masterfoods, told Stuart Elliott of the NYT: "As with all of our Snickers advertising, our goal was to capture the attention of our core Snickers consumer, primarily 18-to-24-year-old adult males. Feedback from our target consumers has been positive, and many media and Web site commentators on this year's Super Bowl lineup ranked the commercial among this year's best. We know that humor is highly subjective and we understand that some consumers have found the commercial offensive. Clearly that was not our intent. We do not plan to continue the ad on television or on our Web site."
It would be nice to hear that the company understands exactly why showing Super Bowl athletes reacting with disgust to images of men kissing is so patently offensive (homophobia is a learned behavior), but at least the correct action has been taken. Good work, folks.