John Edwards' recent hiring of Amanda Marcotte and Melissa McEwan to do outreach to liberal activists and voters on the internet has prompted an outcry from Bill Donohue, president of the Catholic League for Religious and Civil Rights.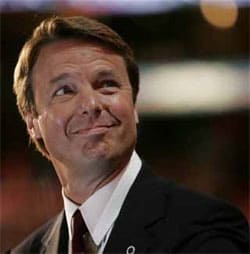 Donohue's demand: "John Edwards is a decent man who has had his campaign tarnished by two anti-Catholic, vulgar, trash-talking bigots. He has no choice but to fire them immediately."
Donohue is angry that Marcotte and McEwan recently criticized the Catholic Church and the Pope on their positions regarding abortion, homosexuality, and contraception, citing this phrase from Marcotte's blog: "The Catholic church is not about to let something like compassion for girls get in the way of using the state as an instrument to force women to bear more tithing Catholics."
On McEwan's blog, Donohue cited a passage about religious conservatives "keeping your noses out of our britches, our beds and our families?"
Oh, and they used profanity.
Donohue's from the Hate-a-Palooza crowd. It's completely obvious Edwards hired the right chicks.
You may have missed…
John Edwards on Gay Marriage: "I Don't Know the Answer" [tr]