Columnist Molly Ivins has died of cancer at 62: Tribute: "But there was more to Molly Ivins than insightful political commentary packaged in an aw-shucks Southern charm. In the coming days, much will be made of Molly's contributions to the liberal cause, how important she was as an authentic female voice on opinion pages across the country, her passionate and eloquent defense of the poorest and the weakest among us against the corruption of the most powerful, and the joy she took in celebrating the uniqueness of American culture — and all of this is true. But more than that, Molly Ivins was a woman who loved and cared deeply for the world around her. And her warm and generous spirit was apparent in all her words and deeds."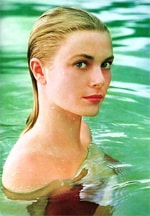 Princess Stephanie of Monaco says her late mother Grace Kelly would have approved of pop star Mika's chart-topping song referencing her: "He is very talented and handsome and I'm sure my mother would have liked the song very much." Said Mika of the icon: "The song is all about identity and what people expect of me and how I'm perceived. I think Grace Kelly was a rebel and I liked that about her, rather than actresses like Audrey Hepburn or Sophia Loren." (more on Mika…)

Aussie Olympian Ian Thorpe and Lachlan Murdoch team up to fight AIDS in Papua New Guinea: "Thorpe says the disease threatens to wipe out up to 30 per cent of PNG's future workforce. 'We've listened to what the local interests are, to what's required here,' he said. 'It's wonderful to be able to see Australian businesses and PNG businesses coming together.' The business coalition launch raised close to $1 million in pledges."

African LGBT leaders angry that British activist Peter Tatchell and his group Outrage! are getting into their business.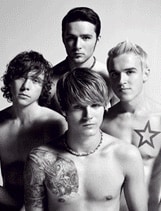 Brit boyband McFly takes it off in the new Attitude.

Gaysted: "Heterosexual people getting so wasted, they slip into seemingly gay acts. The loose definition: It is when you are soooo drunk (wasted) and dudes start dancing with you and you just sort of go along with it and then they start putting their arms around you and you just kind of keep rolling with it because you're drunk and you sort of think the dude is being your dancefloor bro, but then when you sober up you realize that the situash is sort of weird. when this happens, you tell your friends, 'dude, i got so gaysted last night.'"

Vogue editor-at-large Andre Leon Talley gets ready to offer fashion commentary on Oscar's red carpet.

High school wrestler from Valentine, Nebraska who spread Herpes to 24 guys on 10 different teams at a wrestling meet in late December not likely to have a valentine this year. (via deadspin)

Al Franken to run for U.S. Senate from Minnesota: "In a statement, Minnesota Republican Party Chairman Ron Carey said he was confident Minnesotans 'will reject Franken's divisive, scorched-earth attacks.' The state Democratic Party declined to comment. Should he win the Democratic primary in Minnesota, Franken would take on Republican Norm Coleman (news, bio, voting record), a first-term senator who is among the Democrats' top targets. Coleman declined to comment Wednesday."