In a 60 Minutes interview to be aired this Sunday, country star Kenny Chesney talks to Anderson Cooper for the first time about his divorce to Renee Zellweger. In the interview, Chesney speaks out about the separation papers which listed "fraud" as the reason for the annulment. He says many people assumed that the fraudulence referred to his sexuality: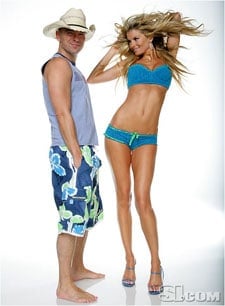 "The only fraud that was committed was me thinking that I knew what it was like … that I really understood what it was like to be married, and I really didn't. We thought the least harmful (stated reason) was fraud because it (is) kind of broad … doesn't specify. And boy … we were wrong…It's not true (that I'm gay). Period. Maybe I should have come out and said no, I'm not (gay), but I didn't want to draw any more attention to it … I didn't have to prove to anybody that I wasn't (gay) … I didn't feel like I really did…Even though I'd sit here and say I wish we'd gotten divorced instead of all that annulment stuff and saved me a lot of public humiliation … I still don't have any regrets. I loved her, you know? And it was real."
Chesney appears in the current swimsuit issue of Sports Illustrated alongside Marissa Miller. So, of course he can't be gay(!) Though I'm sure, as far as the rumors go, he and Anderson have quite a bit to talk about.