A sad update on the recent Detroit hate attack:
Andrew Anthos, the 72-year-old Detroit man I reported on Wednesday was brutally beaten with a pipe outside his apartment after a stranger approached him on a bus and asked him if he was gay, now clings to life in a coma and is not expected to live through the weekend, according to the Detroit News.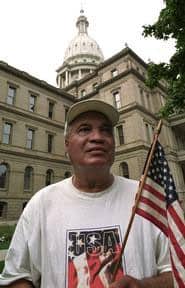 The beating left Anthos paralyzed from the neck down and unable to speak above a whisper. Doctors reportedly performed emergency spinal surgery but were not able to reverse the paralysis. His niece, Athena Fedenis, 45, told the paper that Anthos is gay: "There's nothing else they can do but keep him comfortable. He wasn't robbed. It strictly was a hate crime. This monster gave Andrew a slow, painful death…Our family is just sick. We can't understand why someone would do something like this."
The only lead police have of the perpetrators is a vague description Anthos gave them before he slipped into a coma.
Anthos is apparently well-known in Detroit for his 18-year-campaign to light the Capitol Dome, according to the Landing State Journal (see photo):
"Anthos, who lived in Lansing at the time, often stopped in to get copies of the copious leaflets he created in the course of his 18-year-long Quixotic campaign to convince state officials to illuminate the Capitol dome with red, white and blue lights at least once a year, on Independence Day.
With typical Anthos flair, he told one of several State Journal reporters who interviewed him over the years: '(Lighting the dome was) … a noble, fair, inexpensive and very patriotic proposal – a symbol of what liberty, democracy and freedom espouse.'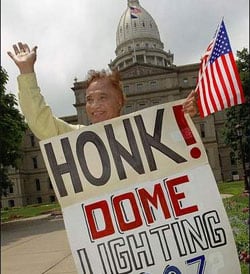 Anthos collected endorsements for his idea the way some people collect autographs. He got letters of support from Detroit Tigers and Red Wings owner Mike Ilitch, actress Ava Gardner, Detroit radio personality J.P. McCarthy – even recent GOP gubernatorial candidate Dick DeVos.
If there's anyone on earth who would appreciate letters and cards from well-wishers, it's Anthos. They may be sent to him at:
Andrew Anthos, Detroit Receiving Hospital, 4201 Saint Antoine, Detroit, MI 48201."
Here's a touching article about Anthos from the State News from five years ago: "The 67-year-old Detroit resident, who collects 'Titanic' movie paraphernalia and idolizes the late actress Ava Gardner, says his biggest passion is his 15-year-old dream to light the outside of the Capitol 'with the soft colors of red, white and blue' on special occasions and holidays."
Anthos was obviously a true patriot who loved his country. If this is not enough to get Michigan to wake up and realize that sexual orientation needs to be part of the hate crime laws, I don't know what is.
While the Lansing State Journal reports Anthos' condition as conscious, the Detroit News obviously reports a more grim situation. I pray that Anthos will come out of it and the police catch the sad, pathetic excuse for a human being who committed this crime.
Our thoughts go out to Anthos and his family.
You may have missed…
72-Year-Old Detroit Man Paralyzed After Brutal Anti-Gay Attack [tr]