Former NBA player Tim Hardaway, who shocked the sports world following John Amaechi's coming out by declaring "I hate gay people", has given his most extensive and revealing interview to date regarding the comments.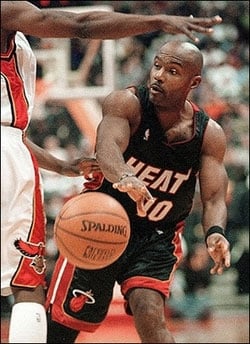 He tells longtime friend Scoop Jackson of ESPN:
"…it was just the wrong choice of words. It came out of my mouth real crude and real bad and real ugly. And people think that that's the way I feel. That I hate [gay people], and I don't. I don't condone what they do, but I don't hate them. But that's how it came out…I should have been smart about what I was saying and how I expressed my feelings because I offended a lot of folks. And not knowing the magnitude on how this all escalated. I mean, I offended my family, my friends, the NBA, the gay community, people I don't know, the [Miami] Heat organization. I realize that I offended a lot of people and caused a lot of friction on a touchy subject. And now it's my job to make it right."
Hardaway tells Jackson: "I still don't accept their lifestyle. No." and says that when he sees gay people on the streets of Miami "I just get away from it. I just walk away. I see it, I just go the other way, cross the street."
He adds: "When we was growing up Scoop, if we saw gay people or whatever, we ran across the street. We got away from them. Our parents, our friends, our families knew that that wasn't right. We didn't want to be around that and they definitely didn't want us kids around it. And it's not that they hated gay people, they just felt they it wasn't right. Let them do what they want to do. And that was my experience when I was growing up. Not acknowledging them. Now did something happen to me? No. But I did have a friend that something happened to him in a Catholic school, but that is another can of worms that it's not my place to open because it's not my life. But to answer your question, 'No.' Nothing happened to me. I just don't condone [being gay]. When I see gay people holding hands or kissing in the streets, I just don't think that's right."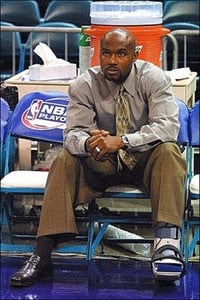 Hardaway says that the past couple weeks have been "pure hell" and he worries someone will physically harm him or his family.
What he doesn't seem to realize, however, is that his fears are felt by gay people all the time as a consequence of hate speech which condones intolerance and facilitates violence.
The one bright spot in the interview is that the incident seems to have opened Hardaway's eyes a little to the fact that there are gay people all around him:
"Maybe I could go to therapy, maybe someone can help me out with understanding [them], the sensitivity of the issue. But as a person, my beliefs are my beliefs. I don't have to condone it and I don't have to be around it. But I don't have to hate it either…Right now, learning. Learning that gay people are really no different than a lot of other people. Learning that they work hard, they do things in the community, they are responsible for building parks, rec centers, providing safe environments for kids, just things I had never associated with them before. [This last week] has opened up my eyes to the gay population and what they do. I'm getting a lot of knowledge about them that I didn't have. Which is going to make me a better person. And if it doesn't, then I'm a damn fool."
After reading his comments, it appears to me that Hardaway's homophobia is a classic case of the 'fear of the unknown'. Visibility is of the utmost importance in spreading tolerance. That is why it's important that news anchors come out, that celebrities come out, that politicians come out, that athletes come out. There should be many more John Amaechis.
The full interview is well worth a read.
You may have missed…
Tim Hardaway's Gay Spinout: North Miami Mayor, All-Stars React [tr]
Former NBA Player Tim Hardaway: "I Hate Gay People" [tr]
Former NBA Player John Amaechi on Outside the Lines: I'm Gay [tr]
Amaechi: Hardaway Anti-Gay Comments "Illustrate the Problem" [tr]
Tim Hardaway's Gay Hate Speech Brings Swift Reaction [tr]