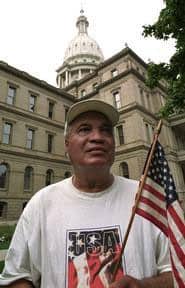 Andrew Anthos, the 72-year-old victim of the horrific gay bashing in Detroit I've been reporting on, was administered last rites on Thursday evening. He is not expected to make it.
His niece reports: "His breathing is very shallow and doctors don't expect him to make it through the next 24 hours."
It had been reported that the victim was asked if he was gay before the beating, but a few of these details are new: "According to family members, witnesses said the attack came after a fellow passenger on a city bus took offense to Anthos' singing, then followed him off the bus. The man then reportedly called Anthos a 'faggot' and beat him with a pipe."
No arrests have been made and "Detroit Police spokesman Leon Rahmaan declined Friday to assign a motive." Uh, doesn't screaming "faggot" and beating someone into a coma with a pipe pretty much describe the motive? Come on!
If folks think we've moved beyond the Matthew Shepard days, think again!