Sunday's Oscars to be the longest ever, Ellen Degeneres to open show dancing with the Happy Feet penguins.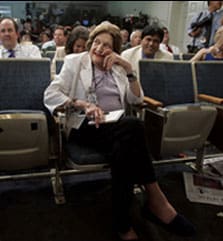 Injustice: 86-year-old veteran newswoman Helen Thomas pushed to second row in White House briefing room after 46 years up front. Thomas: "I didn't think I had a monopoly on that seat. Since my peers have decided that I don't belong there, I'll bow to their – I'll drink the – What did Socrates drink? (Hemlock?) I'll drink it. You have to submit to the will of the people, and apparently this is the will of my peers. It's OK with me. I've had a good run in the front seat."

Brian Austin Green to play gay in a new TV pilot from Will & Grace creators Kohan and Mutchnick about, well, them.

Daniel Radcliffe's Full Monty. Real thing or great photoshop job? (NSFW)

Rich Australian man with mansion-for-rent hopes his dog will attract same-sex weddings. Why, I'm not sure.

It's hard to know whether Britney is in rehab or out anymore.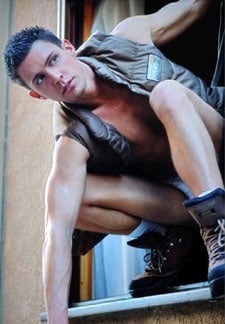 It's time to chat with male model Ryan Diesel.

Three Dollar Bill talks to gay porn superagent David Forest on the eve of the GayVN Awards, known to many as the Oscars of gay porn: "The studios don't want to pay huge salaries anymore. They don't want to pay $25,000 to headliners anymore. They don't like anything coming between them and their stars so they sign them up for exclusives like contract players in the old Hollywood. In the mainstream world, the agent for Jennifer Hudson [an Oscar nominee for the movie Dreamgirls, a David Geffen property] can now get her twice the money. In my business, you try to get bigger money and the studios say, 'Nah, we'll pass.' It exasperates me that they won't take it to the next level. There's always a new guy. You're just a top or a bottom. That's what turns me off and will end my reign in this business. They don't want to rock'n'roll with me."

David Mixner on the selling out of John McCain.

A meditation on Steve Jobs and DRM on music: "At the end of the day, DRM is the biggest impediment to a legitimate music market. Apple doesn't sell music because of DRM — it sells music in spite of DRM. The iTunes Store proves that you can compete with free. People have bought billions of dollars worth of music from Apple because it offered a better user experience. But no one bought for the DRM. Some people bought in spite of it, some bought in ignorance of it, but there's no customer for whom DRM is a selling point. No one woke up this morning wishing for a way to do less with her music."

Karl Lagerfeld to show next collection using the Great Wall of China as a runway?