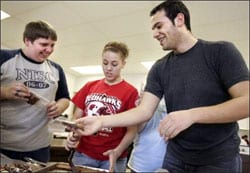 The Cedar Rapids Gazette takes a look at anti-gay bullying in Iowa schools, focusing on the courageous story of high school senior Robert Perrin-Hayes who came out to his classmates when he was a sophomore, and immediately became the target of anti-gay bullying.
While giving a speech about bravery, he decided to come forward and tell his class, "I'm gay." That's when the bullying began, he said. Because of his disclosure, Perrin-Hayes was subject to a continual stream of taunts and physical threats.
Said Perrin-Hayes, who is now an activist for the Iowa Pride Network: "At first, I didn't do anything because I was afraid. I don't think teachers know how to deal with it. It should be the same as other kinds of harassment, but when you're gay, it seems to be different."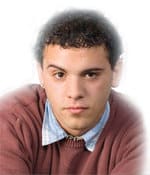 Iowa is currently considering a "safe schools" anti-bullying bill that would protect students from harassment based on, among other things, sexual orientation. Perrin-Hayes will speak this Thursday at the Governor's Conference on Gay Lesbian Bisexual and Transgender Youth, as he did at the first one which was held last year.
Perrin-Hayes and other courageous young adults deserve attention for the changes they are trying to make. Says Perrin-Hayes: "We all bleed, and when we do bleed, it's red, believe it or not. Would I like to be run off the road, would I like to be shoved in the hallway? No. It's not a choice. Nobody would choose to be treated like I am."
Protection Against bullies [cedar rapids gazette]