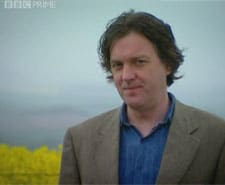 I can't say I've ever seen Britain's motoring show Top Gear so I'm not so familiar with host James May, who is known to fans by the nicknames "Captain Slow" and "The Bachelor".
It appears, however, that his co-hosts Richard Hammond and Jeremy Clarkson may have inadvertently outed him during a press conference in Johannesburg…
"The Bachelor" no more? Watch the last minute or so of this video and see for yourself.
(via jalopnik)