New York Times chief restaurant critic Frank Bruni's review of Robert's Steakhouse at the Penthouse Executive Club, which offers female strippers in addition to what Bruni says are some fine steaks, reveals something about Bruni many have suspected and speculated about, but according to some food bloggers has never been listed on the menu until now.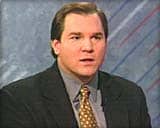 Bruni's review is peppered with passages like this which describes his entrance with three apparently like-minded friends:
"We were strangers to such pulchritudinous territory, less susceptible to the scenery than other men might be, more aroused by the side dishes than the sideshow: underdressed, overexposed young women in the vestibule, by the coat check, at the top of the red-carpeted stairs up to the restaurant, on the stage that many of the restaurant's tables overlook."
And if there was any interest in strip, it was of the steak variety:
"She said she was running low on cabernet. I took the cue and asked if I could buy her a fresh glass. 'Yes,' she said. 'And you can pour it on my toes.' Didn't happen. And when one of her sorority sisters sidled up to us to pose a question not commonly uttered in fine-dining establishments — 'Is there anyone I can get naked for?' — the response was silence. On this visit to Robert's and on subsequent ones, I was derelict in my duty, failing to sample much of what the restaurant had to offer."
And Bruni's end note:
"With a job like this one the learning curve is endless, and it takes you in directions you never expected to go."
Bruni is currently in a major feud with restaurant mogul Jeffrey Chodorow after Bruni gave his Kobe Steak House a "zero star" review. Chodorow took out a full page ad in the Times slamming Bruni. Wonder how Chodorow will feel once he sees that a steakhouse in a strip club beat his meat by one star.