Parents of a girl disciplined for using the term "That's so gay" at school have taken the school district to court, seeking punitive damages.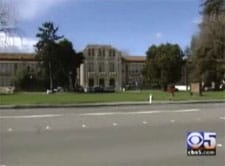 According to CBS5 San Francisco: "To say, 'that's so gay,' according to high school sophomore Jared Young, is to say, 'That's dumb. That's lame. That's just stupid.' It has nothing to do with being gay, he said. The public schools think the slang use of 'gay' is highly inappropriate, and the school district is being sued in court for its stance." (video)
The girl, who is Mormon, was reportedly admonished by her Humanities teacher after responding with the phrase to kids who were teasing her about her religion.
The student's family claims that the teacher and school are pursuing a vendetta against them because the religiously conservative parents were part of a group that publicly protested the school's "Day of Dialogue" which included a presentation on homosexuality.
The suit covers more than just the phrase: "The incidents cited in the lawsuit include a written referral for saying "that's so gay," an alleged threat by an openly lesbian student, a classroom presentation that included the R-rated film, Saving Private Ryan, and a mistaken search of Rebekah's backpack."