Lesbian asks court to ban gay adoptions: "Sara Wheeler's life has become a contradiction. Once a proud lesbian, she's now a pariah in the gay community. Once in a committed relationship with a female partner, she's rethinking her sexuality. And now she's doing something she once would have considered unthinkable — arguing that gays don't have the legal right to adopt children."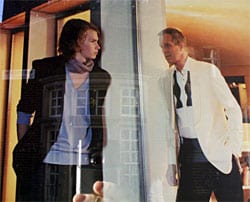 London Gieves & Hawkes ad campaign: father and son, or gay silver fox and his younger conquest?

Donald Rumsfeld reportedly asked to guest edit L.A. Times opinion page.

Anna Nicole Smith died of an accidental drug overdose, says Seminole County police chief.

ABC scores high on grade of five major broadcast networks and their gay representation over the years. Meanwhile, gay media watchdog GLAAD continues to face increased scrutiny after a letter from here! networks senior VP Stephen F. Macias was leaked, questioning GLAAD's continued exclusion of gay media outlets from its awards.

Rupert Everett to don drag for Belles of St. Trinian's sequel: "Rupert is to take on the dual roles of the school's beleaguered headmistress Millicent Fritton and her brother Clarence – made famous by comic genius Alistair Sim – while Pride And Prejudice star Colin [Firth] will play an MP who plans to turn the school into a respectable institution."

Jesse Metcalfe is undeniably in love.

Seattle mayor Greg Nickels under fire for support of gay marriage.

SURVEY: 72% of heterosexual adults say their opinion of a favorite male athlete wouldn't change if the athlete revealed that he was gay.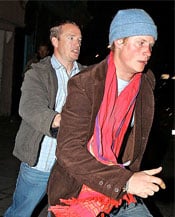 Prince Harry attacks paparazzi in booze rage.

New York's Royalton hotel issued fraudulent fries to Calvin Klein: "Geoffrey Zakarian , the chef behind the Town and Country restaurants, confessed to Bill Boggs at the Yale Club celebrity chef dinner series that while he was cooking at '44' in the Royalton years ago, his regular customer Calvin Klein always wanted French fries with lunch. The kitchen wasn't equipped to make fries, however – so each day, Zakarian sent out to McDonald's for a couple of large orders of fries, which he'd doctor up with more salt and reheat and serve to Klein – who never knew. Until now."

LIFE's over. Time Inc. to stop printing it.

Sean Penn leads Oakland charge against Bush, war: "You and your smarmy pundits — and the smarmy pundits you have in your pocket — can take your war and shove it. Let's unite not only in stopping this war, but in holding this administration accountable. Let's make this crystal clear: We do support our troops, but not the exploitation of them and their families. The money that's spent on this war would be better spent on building levees in New Orleans and health care in Africa and care for our veterans. Iraq is not our toilet. It's a country of human beings whose lives that were once oppressed by Saddam are now in Dante's Inferno."

Senate Republicans blocking free Al Gore Global Warming concert from Capitol grounds.

Spandex-suited Will Ferrell shows off his "moose knuckles".