Chip Arndt, winner of the Amazing Race 4 with then-partner Reichen Lehmkuhl, has launched an ambitious drive to raise $100,000 for nine HIV/AIDS service organizations in Florida, Washington DC, and New York City in 2007.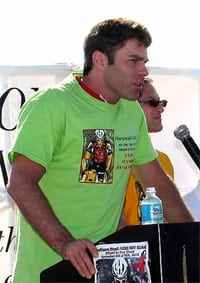 He'll do that, he says, by participating in two AIDS rides and two AIDS walks in 2007 that will cover a total of 425 miles. Chip's Personal Response to AIDS Across America" ("CPR to AAA") will benefit the LGBT Community Center in New York City, the Whitman-Walker Clinic in Washington, DC, and the following organizations in Florida: the Hug Me Program at The Howard Phillips Center for Children and Families in Orlando; Trinities Charities in Sarasota; the Compass Community Center in West Palm Beach, Broward House in Ft. Lauderdale, Care Resource in Miami, South Beach AIDS Project in Miami Beach, and AIDS Help in Key West.
Arndt explained his reasons for launching the drive on Monday: "It's simple, do the math. According to the American Foundation for AIDS Research (amfAR), there are at least 1.2 million people living with HIV/AIDS in the United States. The number of women living with HIV has tripled in the last two decades. At least half of all new infections are among people under the age of 25. While Congress renewed the Ryan White CARE Act until 2009, it doesn't provide near the amount of money organizations serving this growing number of men, women, and children need. This is not about politics; people simply need our help and compassion."
Arndt, whose work for gay causes has expanded in South Florida since his Amazing Race win (he is also currently the PR Director for GLSEN South Florida and the President of Miami's Freedom Democrats) has launched a MySpace page to facilitate his fundraising efforts. We've covered his AIDS ride efforts here before, and wish him the best on his new endeavor.