The first time around, director Ridley Scott's ad for Apple Computer's Macintosh, which aired during the Super Bowl in 1984, was said to be a revolutionary moment in TV advertising and has been called the greatest ad of all time by TV Guide. It consistently ranks in "best of" polls of that nature.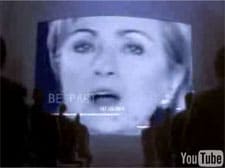 The "1984" spot is again making headlines, this time because it's been used in an unofficial YouTube election spot for Barack Obama. As the SF Chronicle notes: "But this time, the woman is wearing an iPod — and has her candidate's slogan on her chest. And the Big Brother — whose image she defiantly smashes with a wave of her sledgehammer — is Clinton, the Democratic presidential front-runner."
The spot resonates in its reference both to the supplanting of old media (TV) with new media (YouTube) and in its reference to generational shifts in political thinking:
"That theme — reflecting a generational change in the relationship between media, politics, candidates and voters — suggests that 'Hillary 1984' could have the iconic power with the 21st century political generation that another classic political ad called 'Daisy' represented to Baby Boomers, says Leyden. That 1964 spot for President Lyndon Johnson — featuring images of a child plucking a daisy, which morphed ominously into a nuclear mushroom cloud — battered GOP presidential candidate Sen. Barry Goldwater because it, too, portrayed 'a shattering of the whole world' in both political leadership, and media."

The Lyndon Johnson ad (1964) and the original Apple Macintosh ad (1984).
The Obama campaign's insistence that it has nothing to do with the creation of the video, which is spreading at a rapid viral pace, suggests that the campaign dialogue, thanks to "new" media, may now be more fully in the grasp of the people.
So, who is behind the Clinton attack ad?
Political Smackdown [sf chronicle]