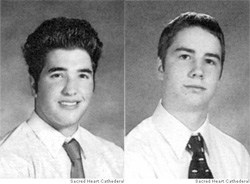 Warrants have been issued for the arrest of 19-year-olds Richard Aicardi (left) and Brian Dwyer for felony assault and battery in the New Year's Eve Baker's Dozen case that we've been following. The SF Chronicle reports: "Dwyer's bail was set at $80,000 and Aicardi's at $120,000. If convicted, the accused face as much as four years in prison on the assault and three more for inflicting great bodily injury in the attack. The battery charges carry a four-year maximum term."
Though the Chronicle continues to report that "the alleged attack drew wide attention in part because the singers reportedly were set upon after being heckled during a rendition of 'The Star-Spangled Banner' and after homophobic slurs were hurled at them," there has been no mention so far of hate crime charges.
The charges come after a two month investigation. Aicardi and Dwyer are expected to turn themselves in today.
Video report at ABC. [abc]
You may have missed…
Atty: U.S. Marines Were Among Attackers of Yale Baker's Dozen [tr]
Yale Singing Group 'The Baker's Dozen' Hurt in Homophobic Attack [tr]