Media Matters has a growing list of newspapers that have dropped Ann Coulter's column as a result of protest following her CPAC "joke" referring to Senator John Edwards as a "faggot".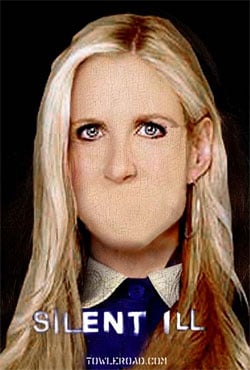 The Lancaster New Era (Pennsylvania), The Oakland Press (Michigan), and The Mountain Press (Sevierville, Tennessee), The Times of Shreveport (Louisiana), and the American Press (Louisiana) have all dropped the columnist from their editorial pages.
MM also has a list of all the papers which carry Coulter's column as well as email addresses for their editors.
In related news, Think Progress reports that right-wing columnist Michelle Malkin is trying to downplay Coulter's remarks by claiming that the so-called hate mail she has received from liberals following the Matt Sanchez story basically excuses Coulter:
Malkin: "I said the other day I thought CPAC organizers would be justified in being embarrassed if the rumors about Sanchez's porn star past 15 years ago turned out to be true. Well, the rumors are true. But it is neither CPAC nor Cpl. Sanchez who should feel embarrassed. It's the nasty, gloating liberals who claim to stand for tolerance, privacy, human rights, and compassion. I predicted the other day that left-wing bigotry would rear its ugly head. I was right. The e-mail I've received is more disgusting than anything Ann Coulter stupidly said at CPAC."
But as Think Progress correctly notes: "It's unclear why liberals should be embarrassed because they believe in privacy (Sanchez' history was completely public) or tolerance and human rights (liberals don't care if he was gay). What's notable is that Malkin compares Coulter to these alleged 'liberal' emailers. Malkin doesn't get it: the random people allegedly writing her don't have regular appearances on NBC News or receive warm praise from leading presidential candidates."
You may have missed…
Advertisers Abandon Ann Coulter, as do Some Newspapers [tr]