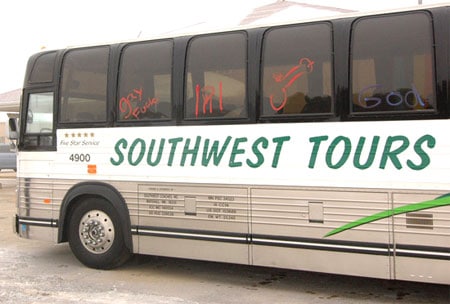 Here's a bit of deja vu for you. Soulforce, the Christian gay activist group, recently began their Equality Ride 2007, setting out across America to visit 32 Christian colleges with policies that silence or exclude lesbian, gay, bisexual, and transgender students.
You may remember they did a similar ride last year, visiting universities and military academies across the country that discriminate against gays and lesbians.
One of the first stops this year was at Dordt College in Sioux Center, Iowa. According to Soulforce, Dordt is 'a school that counts 'sexual activity with someone of the same gender' as possible grounds for 'an employee's discharge or a student's dismissal.""
The group reports: "The bus full of young adults, including former students of conservative Christian colleges, straight allies, and gay evangelical Christians, arrived in Sioux Center in the early evening. On the night of March 7th, three vehicles circled the hotel where the Equality Riders were staying, harassing the young adults who were staying inside. In the morning, anti-gay slurs were found written on the side of the bus, along with a hate-filled message on a piece of cardboard: 'God does not love feary f****'"
More photos can be found here. This incident is similar to one they experienced last year at Lee University in Cleveland, Tennessee when the Soulforce bus was vandalized with the words "Fags-mobile".
Gay, lesbian group harassed in Sioux Center [sioux city journal]