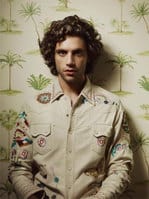 British pop star Mika, whose album seems to have been out forever already but doesn't officially drop in the U.S. until March 27, has stuck to a policy of telling journalists he doesn't answer questions about his sexuality, but in his latest quote to a Brit tabloid his facade appears to be cracking a bit:
"People say, 'You don't talk about sexuality because you're worried about success in the US'. I say, 'Have you heard the f*****g album?' There's a song about a married man who has a homosexual affair. There's no enigma."
If it's so obvious, why not just say it and be done with it? In any case, here's the new video for "Love Today" which appeared yesterday — you may have already heard it on several TV commercials.
You may have missed…
Pop Phenom Mika Takes Manhattan in Candy-Coated Showcase [tr]