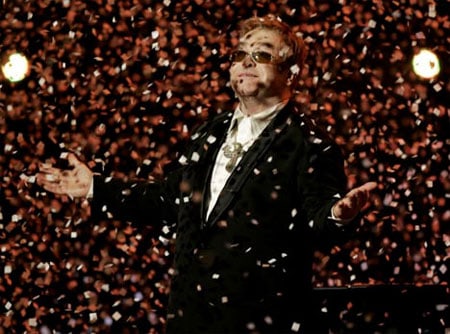 Elton John celebrated his 60th birthday over the weekend in New York, with a cocktail gathering and dinner at the Cathedral of St. John the Divine on Saturday night for 400 guests, followed by a Sunday night concert at Madison Square Garden for 20,000, where Bill Clinton took the stage to introduce him. Clinton congratulated Elton, telling the crowd, "Thank you for coming tonight to help celebrate Elton joining my favourite club, the 60-year-olds' club. I love it every time he plays. He reminds me we've all got a little bit of juice left. Elton has given us enough just from his music — there's nothing quite like it."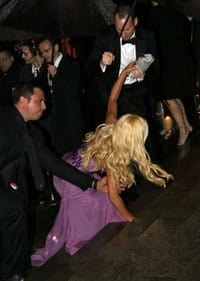 A few details about the events: Elton wore a tux embroidered with the words 'Eltono Es Bueno'. Mary J Blige, the Scissors Sisters and Tony Bennett entertained guests at the dinner. £50,000 worth of flowers decorated the tables. Donatella Versace, defying the black and white dress code in a lavender number, took a spill up the stairs as she arrived. And Sunday night was Elton's 60th performance at Madison Square Garden, a record for a single artist at the venue. Robin Williams and Whoopi Goldberg toasted him on stage there, where Williams called him "a man who used to make Liberace look Amish."
Made in Brazil has a few clips of the event.
Not forgotten was Elton's longtime songwriting partner: "The evening's biggest guest was a non-performer: Bernie Taupin, Sir Elton's lyricist and creative partner of 40 years. Emerging on the heels of Mr. Williams – and upstaging him in the only possible setting where he could – Mr. Taupin led the audience in singing 'Happy Birthday.' Sir Elton reciprocated by giving credit where it's due: 'Without Bernie Taupin none of us would be here tonight. Because the words have always come first.'"
British tabloid The Sun took the opportunity to celebrate Elton's words with a collection of 60 of his bitchiest quotes, including this claim: "I am the most well-known homosexual in the world." At least it may have seemed that way on Sunday night.