Six hours of hearings were held on Friday night over whether or not the Largo City Commission should affirm its decision to fire City Manager Steve Stanton, who found his 14-year job as City Manager jeopardized after disclosing that he was undergoing a sex change operation.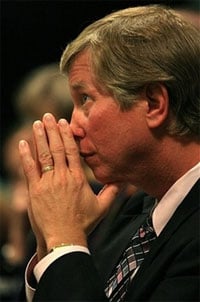 Stanton and his team testified before the Commission for two hours. Stanton himself spoke for 30 minutes, saying "I'm asking you to realize I'm still the same person today that I was four weeks ago. I'm asking you to judge me on my qualifications and performance and the fact that this organization is the best-run organization in Pinellas County."
Neither Stanton's testimony or that of approximately 100 others who came to testify could save Stanton's job. The commission voted to uphold their (5-2) decision to fire him.
It was evident that the circumstances surrounding Stanton's firing had generated a groundswell of emotion, the St. Petersburg Times reports: "Shortly before 10 p.m., the meeting was briefly stopped for a bomb scare; his assistant city manager, Henry Schubert, was treated by paramedics after he blacked out; and across City Hall, dozens of the nearly 300 people in attendance wore light pink T-shirts that proclaimed 'Don't Discriminate.' They were distributed by Equality Florida, a statewide advocacy group for lesbian, gay, bisexual and transgender people."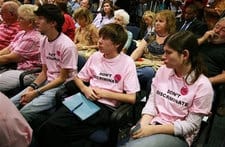 The T-shirts had a particular resonance. At hearings earlier in the month Equality Florida director Nadine Smith was arrested and brually manhandled for distributing flyers that said "Don't Discriminate" on them.
A city commissioner later defended the decision to fire Stanton: "Largo City Commissioner Gay Gentry said City Manager Steve Stanton was a 'hard-nosed, my-way-or-the-highway' boss who expected more understanding of his personal situation than he showed to some of his roughly 1,200 employees in 14 years as the city's top official. 'Suddenly the rules were changing and he was asking to be dealt with in a different way than he was dealing with people,' Gentry said."
Stanton remained upbeat, even after the final decision had been handed down: "I'm on cloud nine. It went super. It went great. This is not about Steve keeping his job exclusively. It was about supplying information and education about something that people just don't understand."
Largo's Transgender City Manager Is Fired [st. petersburg times]
Largo Commissioner Defends Vote To Fire Transsexual City Manager [ap]
You may have missed…
Female Gay Rights Leader "Manhandled" in Brutal Arrest; Was Handing Out 'Don't Discriminate' Flier [tr]