Bob Hattoy, who in 1992 became the first openly gay man to address a political convention in prime time when Bill Clinton asked him to deliver a speech at the Democratic National Convention in New York City, died over the weekend in Sacramento.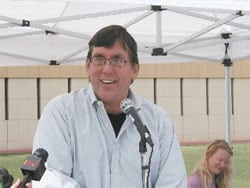 Sean Strub, the editor of Poz magazine, reports that Hattoy had been hospitalized with pneumocystis pneumonia but had recently returned home. The cause of death has not been determined but Strub says cardiac arrest is suspected.
Hattoy was a tireless activist for gay and HIV-related causes as well as the ACLU and Sierra Club. Here's a great piece that was written for the L.A. Times less than two weeks before his speech at the Democratic Convention, and about one month after he learned he had AIDS.
Hattoy told Times reporter Josh Getlin: "I've been trying to put it into perspective, and I've realized that AIDS is what I have, not who I am. I can't speak for every AIDS activist group, but in a way I have to. I want to tell people that we have to beat this thing, and get beyond the politics of denial and death…If you want to know, I had a moment of true homosexual panic when this speech came up. When they told me I had to go through this chemotherapy treatment or die, I had no problem. But when they said my hair would fall out if I had the treatment, I was torn…My life used to be filled with press statements and politicians, and now it's filled with chemotherapy and bone marrow extractions and CAT scans. It's all the same to me. I've always been good at fights."
Our thoughts go out to Hattoy's family and friends.
Bob Hattoy, Gay & AIDS Hero, Advisor to Pres. Clinton, Has Died [petrelis files]
The Speech of His Life: Fate Pushes a Political Insider Into Democratic Convention Spotlight to Talk About AIDS [la times]