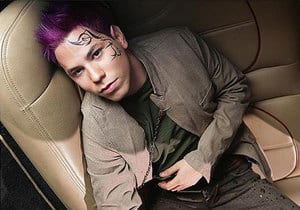 Christian Chavez, a member of the Mexican pop band RBD, came out of the closet late last week after an internet site published photographs showing the 22-year-old marrying his partner in Canada in 2005. Chavez is now the most high-profile Mexican entertainer to openly acknowledge that he is gay.
Chavez told fans in a letter posted on the group's website that he had not come out previously for fear of "rejection" and "criticism" and how it might affect his family.
RBD, which Reuters reports "grew out of the television soap opera Rebelde (Rebel), set in an elite Mexico City boarding school where the three boy and three girl members of the group starred as students who go against the grain by starting a band," has been hugely succesful in Latin America.
Mexican gay rights activist Sergio Villareal praised Chavez: "This young man represents a new way of seeing things, less prejudiced and more open. Christian Chavez's decision symbolizes this new way of seeing life and raises hope of a more inclusive future with more respect for differences."
Read Chavez' entire statement after the jump…
Message from Christian Chavez:
"On March first 2007 certain photographs were released that show a part of me, a part that I was not prepared to speak of in fear of rejection, of criticism, but especially for my family and its consequences.
I think it's time to grow up, not only as a human being, but also as an artist.
I believe love is the purest feeling that exists and in this career filled with loneliness, having the opportunity to share those moments with someone, that when you look into their eyes, you forget all the negative things, it's a gift of life, that I cherish more than fame.
I don't want to keep on lying and lie to myself because of fear, I love what I do and singing is my life, my passion. I would never dream of doing anything else. I feel bad for not having shared this withall my fans before, as they are the ones that worry and it is because of them that I decided to be honest.
Hopefully they will be able to see beyond this note, and realize that I am a human being just like any other, with defects and virtues. I don't think this is a defect, I won't deny it.
I ask the press to respect my family and myself, through this letter. There will be no future statements.
Although I'm scared and filled with uncertainty I know that I can rely on the support of my fans, their love is bigger than all of this. I ask them from the bottom of my heart, not to judge me for being honest and to feel proud of who they are and never make the same mistake I did.
¡Tolerance to diversity¡"