Gay's the Word, London's only gay bookshop, is, like many other privately owned booksellers at the moment, struggling to stay afloat. A combination of rising rents and pressure from online booksellers have forced the shop to begin a fundraising drive.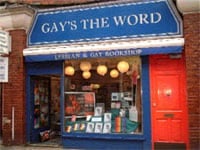 They're receiving support from high-profile writers like Ali Smith, Edmund White, and Sarah Waters, who told the Guardian, "For me it's more than a bookshop. It was one of those places you went to when you first arrived in London; it had its noticeboard and it was a meeting place. It felt very empowering that it was here and it is still important that there is a visible place for people to go."
But, like many gay bookshops, it has served as a place of social support over the years for those coming out, as its assistant manager Uli Lenart notes: "We get teenagers coming in on the verge of tears. This is a place where you can feel less alone."
For more information, visit their website.
Authors campaign to save Britain's only gay bookshop [the guardian]