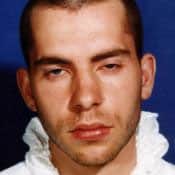 David Copeland, who killed three people in 1999 when a nail bomb he had planted ripped through the gay Admiral Duncan pub in London's Soho district, has had his sentence increased by a judge because of new legislation that allows for stricter sentencing guidelines.
Copeland, a neo-Nazi, placed bombs in Brixton, Brick Lane and Soho over the space of 13 days and injured 139 people in the blasts.
Copeland must now serve a minimum of 50 years, twenty more than his previous sentence, before he can be considered for parole and at that time will be under close watch.
Said Justice Burton: "When the defendant has served the minimum term, and if the parole board decides to direct his release, he will remain on licence for the rest of his life and may be recalled to prison at any time."