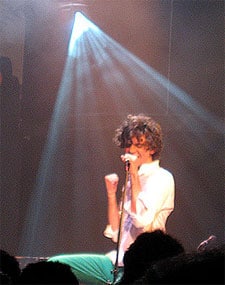 Pop star Mika, whom Arjan profiled for Towleroad last week, says he's been receiving gay death threats because he won't discuss his sexuality. He told the Evening Standard:
"I get hate messages all the time, a death threat. It was over whether I am gay or not. He wasn't happy that I won't talk about my personal life like that. Sometimes I think that I have made it, other times it is a bit worrying…I never talk about anything to do with my sexuality, I don't think I need to. People ask me all the time. In order to survive I've shut up different parts of my life, and that's one of them, especially this early in my career, I don't really feel that it's necessary to know in terms of my music. Some people make records that are defined by their sexuality, but mine really are not. It does play a lot with campness. It has a theatricality to it. Why not? It's pop music. If you're 14-years-old and you're gay, well, just do whatever you want. I'm not confused and I don't have any barriers about the way I live my life. That's why I don't want to put it under the microscope."
Not surprisingly, Mika didn't want to talk about it with Arjan either.