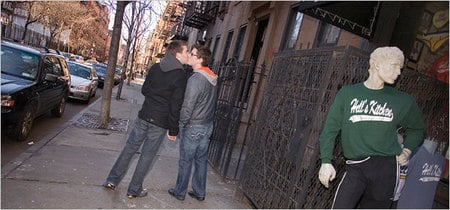 Hell's Kitchen was anointed Manhattan's hottest gay neighborhood by the New York Times this weekend, and they've got some fancy census data to back up their claims:
"Though it is hard to measure changes in a neighborhood's population with respect to sexual orientation, the demographer Gary Gates has tried to do just that. A co-author of 'The Gay and Lesbian Atlas,' published in 2004, Mr. Gates analyzed census data broken down by ZIP code and concluded that Chelsea's central ZIP code, 10011, followed by the West Village's, 10014, had the city's highest numbers of households made up of same-sex unmarried couples. By 2000, when the most recent census was taken, the 10036 ZIP code in Hell's Kitchen already had the third-highest number of gay couples, indicating that the gay settlement of Hell's Kitchen was already well under way."
And kudos to Towleroad contributor Josh Helmin (also of Josh & Josh) and his boyfriend Brian Orter (see photo above, which appeared on the front page of the City Section this weekend) for continuing to ensure that the territory is well-marked.
Under the Rainbow [nyt]