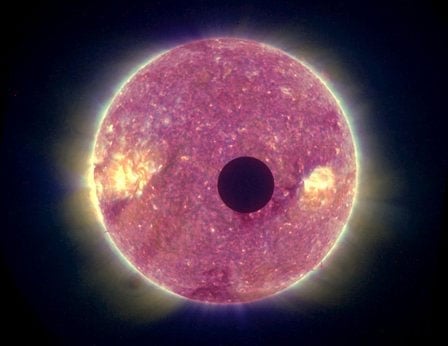 NASA just released this beautiful shot taken by the STEREO-B spacecraft depicting a lunar transit of the sun. That's the silhouette of the moon you see with the sun behind it, photographed in four wavelengths of extreme ultraviolet light.
NASA explains the size differentiation between the two orbs, which is negligible when viewing an eclipse from Earth:
"The Moon seems small because of STEREO-B's location. The spacecraft circles the sun in an Earth-like orbit, but it lags behind Earth by one million miles. This means STEREO-B is 4.4 times further from the Moon than we are, and so the Moon looks 4.4 times smaller."
Here's a short film of the transit. Enjoy.
You may have missed…
Out of this World: Cassini Sends Postcards from Saturn [tr]
Comet McNaught Makes an Appearance [tr]
From a Distance: Massachusetts from Space [tr]
Space Porn: Atlantis Moments after Intercourse [tr]