How did Paris Hilton escape unscathed after GLAAD demanded she apologize for using the F and N words? "You'd think she'd have some 'splainin' to do—Hilton served as grand marshal of the 2005 Los Angeles gay pride parade. Presumably [handler Elliot] Mintz knows his charge is just too valuable to the media for them to call her on her hypocrisy and hatred."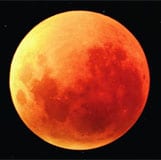 Total lunar eclipse to turn moon red this Saturday: "Star gazers in Europe, the Middle East and Africa will have a front-and-center view of the eclipse in a late-night sky, with the zenith occurring at 23:21 GMT. On the east coast of North America, the Moon will already be eclipsed when it rises at around sunset, while in Asia early risers will get a glimpse of the lunar blackout as the Moon sets."

Largest gay sauna in Latin America to open in Sao Paulo, Brazil.

Argentina moves toward same-sex civil unions: "The national civil unions bill would give same-sex couples all of the rights of marriage without the name. It was written with the support of the country's largest LGBT civil rights group, the Argentinean Homosexual Community."

Men's Fitness magazine blasted by industry watchdog for false claims, including "alcohol plus a steak dinner works like lighter fluid on your metabolism."

Historian Arthur Schlesinger, Jr. dies of heart attack at 89 in Manhattan.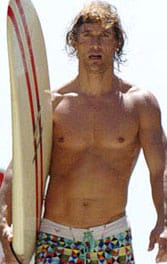 Matthew McConaughey and a bevy of wet pecs.

Brothers & Sisters executive producer Greg Berlanti: Younger studio execs are driving gay TV visibility. "I think because the people who were assistants 10 years ago have become executives now, they are less afraid of what people are going to say because they've seen now that it's not such a big deal. Whereas the last batch of execs was maybe living with their fears of 10, 15 years ago. A large part of it though is cultural. The culture at ABC is just, I think, very supportive, and just maybe they have their finger a little bit more on the pulse. Certainly no one has an agenda of 'well, let's see as much man-on-man action as possible.' The agenda instead is: 'Hey, we want the story lines for all of our characters to be as interesting and as thoughtful and mature and real as they can possibly be.'"

John Edwards strategist says Barack Obama lost in the Clinton-Obama-Geffen feud: "They made it a five-day story, and it knocked Barack off his pedestal. They shouldn't have answered back. It would have gone away. I think Barack definitely lost that round."

Walter Reed hospital soldiers told to keep quiet to the media about conditions there: "Soldiers at Walter Reed Army Medical Center's Medical Hold Unit say they have been told they will wake up at 6 a.m. every morning and have their rooms ready for inspection at 7 a.m., and that they must not speak to the media. 'Some soldiers believe this is a form of punishment for the trouble soldiers caused by talking to the media,' one Medical Hold Unit soldier said, speaking on the condition of anonymity. It is unusual for soldiers to have daily inspections after Basic Training."