New York City Council Speaker Christine Quinn to skip New York's St. Patrick's Day parade again and march in a parade in Dublin because the New York organizers still refuse to allow gays and lesbians to march. Quinn: "My participation in Dublin's parade is also an opportunity to march openly as a member of the lesbian, gay, bisexual, transgender community, something we have not been able to do in New York City," Quinn said in a statement Saturday. "I hope my participation in the Dublin march will send a message about the importance of inclusion."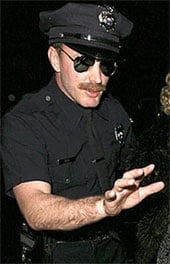 Guy Ritchie: arrest me officer.

Radio host Michael Savage responds to the recent outcry following his hate-filled rant against Melissa Etheridge and her partner: "Those of you who think I'm your enemy — if you think I'm a bigger enemy to you…then you're proving to me that liberalism is a mental disorder…You're mentally ill, and you need help. You need more help than you can imagine. But you'll be the last person to understand how sick you are."

Gay newspaper Capital Xtra in Ottawa, Canada claims city is illegally removing it from certain public facilities.

Iowa State University student groups to protest federal ban on gay blood-giving: "Up to 500 blood donations are expected to be lost as a result of the decision by Greek Week officials, said organizers of the Ames blood drive, the largest student-run blood drive in Iowa. The loss of that much blood comes at a time when Iowa blood banks are already seeing supplies run short because of recent storm-related cancellations of blood drives."

The Lambda Literary Award finalists have been announced. Congrats to all the nominees.

Not the happiest place on Earth: Disney bars same-sex union ceremonies from its parks. "On the Feb. 20th episode of The View, well-known wedding planner David Tutera appeared on the talk show to promote his David Tutera Couture Wedding Collection at Walt Disney World Resorts in Orlando, Fla. The collection allows the happy couple to choose between four elaborate wedding styles: classic elegance, simply chic, cocktail soiree and whimsical garden. But are those weddings available if there are two brides or two grooms? Short answer: no."

Mario Lopez takes his glistening pecs for a jog.

Bush approval rating: 29%.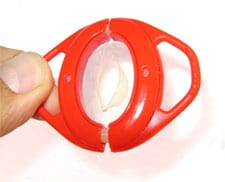 Condom applicator named most beautiful object in South Africa: "The applicator, invented by Willem van Rensburg and designed by industrial designer Roelf Mulder of South Africa's XYZ Design, allows a condom to be put on easily and rapidly. The user holds the device with the thumb and forefinger of both hands, pulling the condom down over the penis in a single rapid movement. It is hoped the design will encourage the use of condoms, thereby helping reduce the spread of AIDS."

George Michael to christen new Wembley stadium with June 9 concert.

Gay Dallas police officer under investigation over sexual harassment claims. Some say the claims are an effort to run him out of office.