Detroit Police said on Wednesday that gay senior Andrew Anthos, who was reportedly attacked in front of his apartment with a pipe of February 13 after his assailant had taunted him over his sexuality, died of natural causes and was never attacked.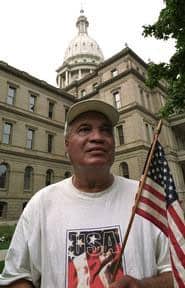 This has been the account: "According to family members, Anthos said he was riding a city bus home from the library on Feb. 13 when a young man asked him if he was gay and uttered a slur. Anthos said the man followed him off the bus and confronted him again. Anthos said he told the man he was gay as he went to help a friend whose wheelchair was stuck in a snowbank, according to his cousin, Athena Fedenis."
In the days following the incident, Anthos, 72, clung to life in a Detroit hospital before slipping into a coma and dying.
According to the AP, "the Wayne County Medical Examiner's Office concluded that Anthos fell because he had an arthritic neck, and detectives were unable to find witnesses to a beating, police said…Medical Examiner Dr. Carl Schmidt said evidence did not support the report of an attack on Anthos and said a head injury likely came from falling. Anthos probably flexed his neck, which caused arthritic spurs to compress his spinal cord enough to paralyze his legs, Schmidt said."
Said police spokesman James Tate to the Detroit News: "There's no evidence that an assault occurred. They determined that he died of natural causes."
Homicide unit supervisor Lt. Linda Vertin said the case would be closed due to lack of evidence of an assault. The report of the attack on Anthos sparked a renewed outcry in Michigan and across the country from gay advocacy groups for hate crime legislation.
The AP notes, "It was unclear what police made of the friend's account." It's also unclear where police came up with a sketch of Anthos' attacker which was released on March 1st.
Athena Fedenis, Anthos' cousin, whom police did not talk to before going public with their findings, expressed shock that the case was closed: "I'm just livid about this. Andrew didn't have any reason to make this up. I won't let this rest. I can't let this tarnish him. I don't want anyone to think it wasn't a hate crime."
Police, coroner: Detroit gay man died naturally, not from beating [detroit news]
Police Say Gay Man Not Fatally Beaten [nyt]
You may have missed…
Vigil for Andrew Anthos Tonight; Sketch Released of Killer [tr]
Detroit VIPs Silent on Gay Senior Andrew Anthos' Murder
Gay Senior Citizen Brutally Beaten in Detroit Hate Attack Dies [tr]