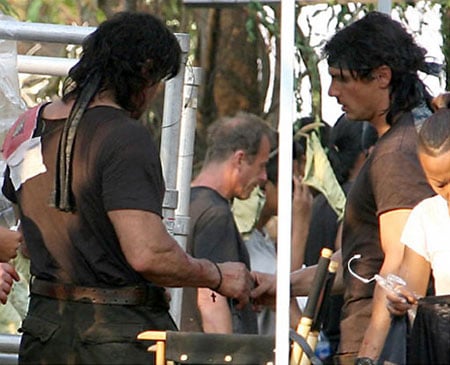 Sylvester Stallone, 60, has been shooting the latest Rambo sequel in the jungles of Thailand.
"Stallone threw himself into his new project shortly after being charged with importing a banned bodybuilding drug in Australia. The actor and his entourage of minders were stopped last month at Sydney airport en route to the Australian premiere of his sixth Rocky movie when a routine X-ray of the party's baggage revealed 48 vials of Jintropin, a so-called miracle drug."
Actually, there's a second miracle at work here. The actor has been using more than steroids to summon back his youthful strength. He has hired a hot body double 30 years his junior (above, right) to do the dirty work. Hmm, perhaps double deserves his own sequel?
You may have missed…
Sly Stallone: Richard Gere Thinks I Started Gerbil Rumor [tr]