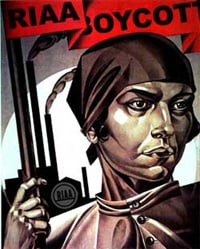 The Recording Industry Association of America (RIAA) has launched a fresh attack on illegal music downloads by contacting hundreds of college students and officially accusing them of breaking the law. The students are asked to "turn themselves in" at P2PLawsuits.com in order to avoid going to court and in exchange for a reduction in fines. A USC law professor tells NPR that students should know that they should probably not simply "turn themselves in" in response to what is basically a cease-and-desist letter.
Fed up with the RIAA's aggressive tactics, Gizmodo is promoting March as Boycott the RIAA Month. This means making a statement by not purchasing any music in the month of March that is distributed by labels represented by the RIAA. Gizmodo says that they want the RIAA to stop the lawsuits on "normal people," to stop insisting on DRM software for digital music sold online, and to stop trying to "stifling innovation and control the internet." (Much, much more information at the Gizmodo page).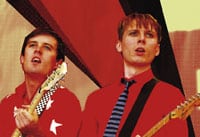 EA has put its entire library of video game soundtracks on iTunes, opening up access to what is already a substantial outlet for music. According to EA's press release, "EA games have helped launch the careers of such artists as Good
Charlotte, Jet, Franz Ferdinand, Scissor Sisters, Arctic Monkeys and
Fabolous just to name a few."
A survey released by a Korean research group predicts that the internet will be used to transmit fragrances as part of the multi-media data we interact with online. Becks in the locker room? Hot. Steve-o making a fart joke? No thanks!
Homeland Security is moving forward with its plan to make states convert state-issued licenses to "internal U.S. passports" with the release of official protocols this week. Said ACLU attorney Tim Sparapani "Real ID creates the largest single database about U.S. people that has
ever been created. This is the people who bring you
long lines at the DMV marrying the people at DHS who brought us
much of the Katrina mess. It's a marriage we need to break up."

YouTube is adding more and more "official" content every day, it seems, with new partnerships with major television networks that could potentially turn YouTube into a free cable-like service. The BBC has announced a partnership with the popular video-sharing network, and has already begun uploading news and entertainment clips on its BBC and BBC Worldwide YouTube channels.
YouTube has also set up channels for all of the U.S. Presidential candidates, allowing them to upload their official videos to the site. The dip into politics for the viral media portal is dubbed YouChoose '08.
From the Rumor Mill: will we soon see a Microsoft Zune Phone?
Daniel Williford is our TowleTech correspondent.

You can visit him at his blog, Until Today…