At the Conservative Political Action Conference today, which was attended by 2008 Republican Presidential candidates Mitt Romney, Rudy Giuliani, Mike Huckabee, Tom Tancredo (R-CO), Senator Sam Brownback (R-KS), former Congressman Duncan Hunter (R-CA) as well as Vice President Dick Cheney, Ann Coulter referred to Senator John Edwards as a "faggot".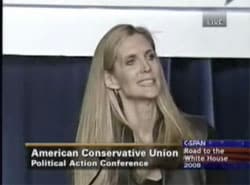 After being introduced by Romney, who said "I am happy to hear that after you hear from me, you will hear from Ann Coulter. That is a good thing. Oh yeah!", Coulter took the stage and said:
"I was going to have a few comments on the other Democratic presidential candidate John Edwards, but it turns out you have to go into rehab if you use the word 'faggot,' so I — so kind of an impasse, can't really talk about Edwards." (video)
Coulter's comments were met with an audible gasp and then a smattering of applause and cheers. Disgusting.
It's not the first time Coulter has used anti-gay slurs as a form of insult. Last July she called Al Gore "a total fag".
HRC's Joe Solmonese issued this statement: "To interject this word into American political discourse is a vile and disgusting way to sink the debate to a new, all-time low. Make no doubt about it, these remarks go directly against what our Founding Fathers intended and have no place on the schoolyard, much less our country's political arena. It is clear that some in the Republican Party plan to run in 2008 the same way they did in 2004, by using discrimination to divide the country and rally their base. But, 2008 is not 2004, and this time the politics of fear and smear will not work. The American people are tired of those who would rather divide than unite."
Solmonese also called on Republicans to come forward and condemn Coulter's hate speech:
"We demand that every single Presidential candidate in attendance at this conference, along with Vice President Cheney stand up and publicly condemn this type of gutter-style politics. If not, then their silence will be deafening to the vast majority of Americans who believe this type of language belongs no where near the discussions about the future of our country."
Full video at Think Progress [think progress]
Cheney, GOP prez candidates, called on to condemn Ann Coulter for calling John Edwards a "faggot" today [americablog]