A candlelight vigil was held last night at Cielito Park in Phoenix to mark the anniversary of the still unsolved murder of Maurice "Melissa" Green.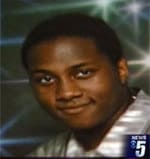 Green, 22 at the time, was shot in the back by an unknown assailant as he walked down 35th and Glenrosa avenues. He was dressed in drag at the time. Police do not have a motive or suspects. (video)
City Councilman Tom Simplot donated $1,000, doubling a $1,000 reward already in place, in hopes that someone would come forward with information about the killing. Green's mother told KPHO: "It feels like I'm dead inside. I feel like I died when he got killed."
Anyone with information about Green's death is asked to call Silent Witness at 1-800-343-TIPS or 480-WITNESS.
Vigil Marks Anniversary of Unsolved Murder [kpho]