For our previous Boy George coverage, click here.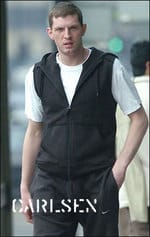 Boy George has reportedly had another run-in with authorities if reports from Brit tabloid The Sun are accurate.
The singer, who spent much of 2006 dealing with repercussions from his arrest on cocaine charges in 2005, was reportedly taken to a police station and questioned over the weekend after a Norwegian male escort claimed the singer met him on the dating site Gaydar and called him to his flat where George another man chained him by a hook to a bed, took photos of him in "kinky gear", and threatened him with whips and sex toys.
The male escort, Auden Carlsen, also claimed that he "only agreed to go to his flat at midnight as a £400 photographic model and not as an escort."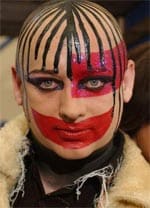 Said Carlsen: "It's ironic that his biggest hit was Do You Really Want To Hurt Me? — because I'm sure he did want to hurt me. I was convinced I was going to die…George said he was popping out for milk at 5am. I heard him come back and I walked into his bedroom wearing just my white underpants and a T-shirt. I was jumped on by George and another man. George handcuffed me to a hook by the bed as they held me down."
According to The Sun: "He said George got rid of the blond man then produced a box of whips and sex toys — telling him: 'Now you'll get what you deserve.'"
Carlsen said he escaped by ripping the hook he was chained to from the wall, and fleeing the apartment to a nearby newsstand where he called police.
You may have missed…
At Some Point Last Week, Boy George Lightened Up [tr]
Boy George Punishment is Rubbish [tr]
Boy George Referred to Sanitation Department [tr]