The story of an Allen County, Indiana teacher I posted in February has taken another outrageous turn. You may remember that Amy Sorrell was put on paid leave in March following the publication of a pro-gay tolerance essay by sophomore Megan Chase in the Woodlan Junior-Senior High School Tomahawk (which Sorrell supervises) that read, in part: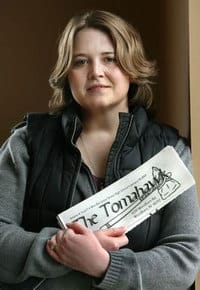 "I can only imagine how hard it would be to come out as homosexual in today's society. I think it is so wrong to look down on those people, or to make fun of them, just because they have a different sexuality than you. There is nothing wrong with them or their brain; they're just different than you."
Following a warning for "insubordination" by the school's principal Edwin Yoder, Sorrell was suspended from teaching and put under "investigation" Yoder also said all future issues of the school newspaper would require his approval before going to press.
The results of the school's "investigation," according to the Indianapolis Star? Sorrell will be "transferred to another school and barred from teaching journalism for three years."
All for allowing a student-written essay that said people should tolerate gays and lesbians.
The Star: "Sorrell had to choose between 'the students of Woodlan High School and a free press and the children living in her home,' said Jack Groch, a union representative with the Indiana State Teachers Association who represented her. Sorrell, who grew up in Monroeville, southeast of Fort Wayne in Allen County, attended East Allen schools. She always wanted to teach there, Groch said. But Sorrell felt she couldn't take the chance of losing her job, he said. 'She is not a wealthy person and felt she couldn't maintain her family if she had to undergo a long appeal process.'"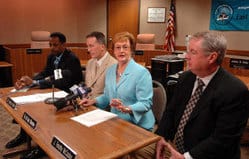 School administrators held a press conference after the settlement decision, saying they were the victims of "character assassination", apparently upset that their bigoted behavior had been exposed in the media.
Said Superintendent Kay Novotny (pictured, in blue): "EACS senior administrators have been able to set aside their frustrations with the spin applied to this situation to give Amy Sorrell a second chance to prove, despite her relative youth and obvious inexperience, that she can make as great a positive mark on EACS education as the administrators whose reputations her comments and actions have helped tarnish."
Sorrell was also apparently made to issue an apology "stating that she did not intend her actions or comments over the last three months to suggest that administrators were intolerant toward homosexuality."
Added Novotny: "(We) assume that her statement of apology was sincere and heartfelt and not some shallow, insincere statement made, with her fingers crossed behind her back, in order to save her job."
Absolutely sickening.
Journalism teacher to be moved [indy star]
EACS: Sorrell's job saved by compassion [fort wayne journal gazette]
You may have missed…
Gay Tolerance Puts Indiana Teacher Under Investigation [tr]
HS Pro-Gay Tolerance Editorial Gets Warning from Principal [tr]
School information, after the jump…
(260) 446-0290 Woodlan Junior-Senior High School
Principal Phone:, 219-446-0290 ext 7401