Former NBA player Micheal "Sugar" Ray Richardson, the coach of the Albany Patroons (in the Contintental Basketball Association), has been let go following a wave of media attention after Richardson made what were seen as anti-Semitic comments to the Albany Times Union and called a fan a "faggot" during game one of the CBA Championship Series with the Yakima Sun Kings.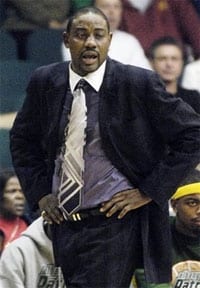 Richardson had commented to the Times Union that he had some "big time Jewish lawyers" working for him: "They got a lot of power in this world, you know what I mean? Which I think is great. I don't think there's nothing wrong with it. If you look in most professional sports, they're run by Jewish people. If you look at a lot of most successful corporations and stuff, more businesses, they're run by Jewish. It's not a knock, but they are some crafty people."
During the Sun King game, Richardson reportedly told a heckler, "Shut the f— up, you faggot."
Richardson was suspended indefinitely last week following the remarks. Following his suspension, Richardson apologized: "I want to make an apology if I offended anyone. I am 100 percent sorry. I don't like being suspended, but what can I do about it?"
Yesterday, however, it was made clear that the team was declining to renew his contract. General Manager Jim Coyne said the decision to let Richardson go was ultimately based not on the comments that were seen as anti-Semitic, but the anti-gay comments Richardson had made to the fan.
Richardson responded: "I should not have cussed out the fan. I was caught up in the heat of the moment, the team didn't play well and spectators were screaming at me. I had had enough by then."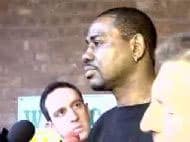 Yesterday, Richardson and his attorney spoke out in the coach's defense: "I used the words, 'He's a big-time Jewish lawyer.' And he is a big-time Jewish lawyer. He's real good in what he does. That's not a slur. It's like saying that 85 percent of the NBA is black, or 98 percent of hockey is white."
When asked about the anti-gay slur, Richardson's attorney John Aretakis spoke up: "Can I answer that? I want to answer that. Micheal Ray used that term and immediately apologized. He was in the heat of a game. The heat of competition."
Richardson and his attorney said they planned to sue the Times Union and the writer of the article for $5 million, claiming that the writer has a vendetta against Richardson and the team after having his car towed at a Patroons game, and also that the Times Union center (named for the newspaper), another venue, is in competition with the Armory venue, where the Patroons play.
Richardson loses control [times union]
Patroons, Richardson part [times union]
Former Patroons coach speaks out [capital news 9]