Senate committee in New Hampshire endorses (3-2) civil union bill that the House passed last week. The Senate is expected to vote next week!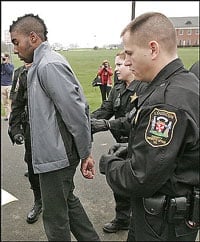 The Washington Post tells the tale of Soulforce: "Even on American highways crowded with giant family cars, buses are still big enough to make a point. For his acid tour in 1964, Ken Kesey had his Merry Pranksters repaint a 1939 school bus in psychedelic colors with brooms. These days buses are plastic-wrapped with their messages, like giant Twinkies on a mission. The one driving down Route 7 in Virginia yesterday was purplish on one side and orange sunset on the other. In huge letters it said "Social Justice for Gay, Bisexual and Transgender People." On the highway, fellow drivers either honked and waved or threw Coke cans. In Sioux City, Iowa, someone spray-painted the bus with 'Fag, God doesn't love you.'"

Why is Brad Pitt losing his hair?

Don Imus just the tip of the hate speech iceberg: what about Glenn Beck, Neal Boortz, Rush Limbaugh, Bill O'Reilly, Michael Savage, Michael Smerconish, and John Gibson? Al Franken calls on CNN to fire Glenn Beck.

Scientists identify gene that makes us fat.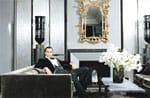 Tom Ford celebrates the opening of his new butler-staffed boutique.

Fallen American Idol contestant Frenchie Davis shows that there's room for both God and the gays: "When I'm singing, that is when I feel closest to God. I feel like I'm fulfilling his purpose for my life. Sometimes I get goose bumps, and sometimes my bottom lip quivers. I know it is God, because this business is insane and I want to give up on it every day. It's my belief that keeps me going….I used to sing at the gay clubs in D.C., and the boys would come up onstage and give me tips. They still do! There was a gay Stanford law student who started a Save Frenchie Web site and Save Frenchie T-shirts. All the important men in my life have been gay. Even though I'm not gay, I've always been a member of the gay community.

Nice bathrobe: Will Arnett's gay cameo in 30 Rock.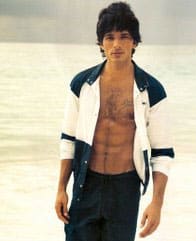 Vogue Hommes International attempts to capture the spirit (and the abs) of JFK Jr.

Village People celebrate 30 years in show business: "David Hodo, the construction worker, remembers it well. 'The (casting) ad said, 'Must have mustache.' Back in 1977, the producers envisioned a gay disco group that would be "a very dark, very heavy Marlboro Man experience,' says Hodo, who immediately took another approach. 'There was absolutely no way I could do this seriously, so I started to spoof on the stuff. We realized it was more fun to have fun with it. That's what the group is, tongue in cheek.'"

HIV and Me: Stephen Fry making documentary about friends who are HIV positive and those who have died of AIDS. Fry: "I'm not HIV positive myself but the documentary is something very close to my heart as I have friends who have died from AIDS and who are HIV positive. I've also worked for the [AIDS charity The Terrence Higgins Trust] for a long time."

Jimmy Kimmel called out for attack on Gawker editor.

Reporter: Despite their recently waning numbers, gay TV characters are gaining complexity.