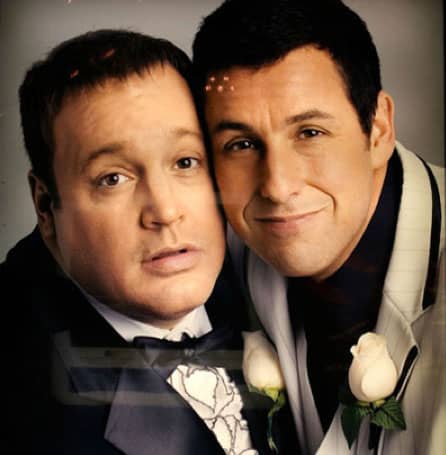 Adam Sandler talks to Newsweek magazine this week about his upcoming role in I Now Pronounce You Chuck and Larry, in which he and Kevin James play firefighters who pretend to be gay in order to receive domestic partner benefits.
Said Sandler: "Kevin [James] and I have to pretend we're a gay couple. I know Kevin, and it's kind of a strange thing to have to play. So to ease the tension, before the first day of shooting, we had sex with each other. We just got it out of the way so it wouldn't be an issue. It's an old tip I picked up from working with Nicholson. We took some liberties in the movie. There's a scene where I mistake Kevin James's boxers for a pillowcase and stuff a pillow in them. That was not Kevin's real underwear. We used that as a mattress cover. This movie says there's nothing wrong with being gay. There's just something wrong with being gay for Kevin James."
I Now Pronounce You Chuck and Larry is scheduled to open on July 20.
You may have missed…
Adam Sandler and Kevin James Hope to be Gay Celebrity Brides [tr]
I Now Pronounce you Chuck and Larry preview [tr]