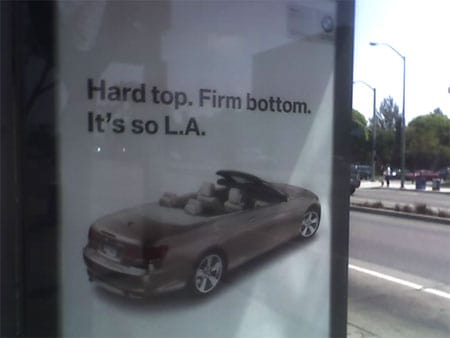 A New York Times article published today wonders if there is such a thing as a gay car?
"Cars are no more straight or gay than cellphones, office chairs or weed whackers. But in recent years that truism has not stopped a perception among some motorists that certain cars can, in the right context, be statements about a driver's sexual orientation."
Considering the way BMW is marketing their cars to folks in West Hollywood, according to this ad dug up by L.A. blogger BoiFromTroy, the carmakers are certainly pushing things in that direction, at least in some markets.
Overall, however, according to gay technical director for Motor Trend Frank Markus, gays are pretty much like everyone else. Said Markus to the Times: "…clichés about gay drivers tend to collapse on close inspection, like the gay man who is a 'gym bunny' and gravitates toward Jeeps and convertibles 'to show off his hot body.' But, he added, 'If you could actually push a button and see what every gay person drives, it's probably not too different from what the average person drives, but it might skew higher in price.'"
What do you think? Can gays be spotted by their cars?
Gay by Design, or a Lifestyle Choice? [nyt]
You may have missed…
KITT, Knight Rider's Gay Car for Sale [tr]