Alleging that support for a bill in Colorado to allow same-sex couples to adopt children is behind a broader "homosexual agenda" to advance same-sex unions, conservatives protested a Senate vote which advanced it on Wednesday.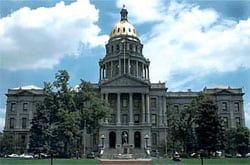 House Bill 1330, which has already been approved by the House, needs another affirmative vote by the Senate before it can advance to the governor. The bill would allow same-sex partners to adopt each other's children, a measure that mirrors a stepparent law already in place for married heterosexual couples.
Sen. Dave Schultheis (R-Colorado Springs) objected: "It's not about the children at all. It's about furthering this homosexual agenda and about attempting to continue to narrow the gap between marriage and the concept of a homosexual union."
The law would give children in same-sex households health insurance benefits and Social Security payments already offered to those with two legal parents. In Colorado, gay individuals can currently adopt children, but same-sex parents cannot. The law would correct that injustice.
In related news, a prospective adoptive mother in Georgia is battling for a child taken away from her by the state's foster care system, in part because "the child will have a long-term exposure to the homosexual parent's lifestyle."
And in California, a judge has ruled that a gay San Jose couple can proceed with a lawsuit against Arizona-based Adoption.com after they were refused consideration based on their sexual orientation: "In her March 30 ruling, Hamilton determined that Adoption.com's alleged discrimination of same-sex couples went against California's anti-discrimination laws. She rejected the Internet company's claims that California consumer laws don't apply to an out-of-state business or to free speech."
Gay Adoption Bill Advances In Senate [cbs4 denver]
State GOP warns of "homosexual agenda" [denver post]