After several advertisers (General Motors, American Express, Sprint Nextel, GlaxoSmithKline, TD Ameritrade and Ditech.com.) said they were pulling ads from MSNBC due to Don Imus' racist remarks, the network announced that it would no longer be airing Imus' talk show (see video). CBS radio, another of the show's broadcasters, announced they would monitor the situation closely but stick to the two-week suspension they had put in place. Imus' comments, that memebers of the Rutger's women's basketball team were "nappy-headed hos", has set off a national debate on racism, political correctness, freedom of speech, and tangentially, homophobia and sexism.
Al Sharpton, who has been a vocal leader in efforts to get Imus off the air, said, "This has never been about Don Imus. I have no idea whether his is a good man or not. This is about the use of public airwaves for bigoted, racist speech."
Imus appeared on Al Sharpton's radio show earlier this week and apologized for the comments.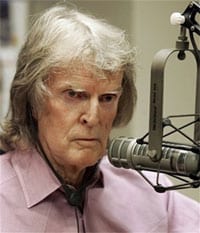 Imus' comments inspired statements from many of the presidential candidates as well.
Barack Obama, who said he would never again appear on Imus' show, told ABC News: "I understand MSNBC has suspended Mr. Imus, but I would also say that there's nobody on my staff who would still be working for me if they made a comment like that about anybody of any ethnic group. And I would hope that NBC ends up having that same attitude…He didn't just cross the line. He fed into some of the worst stereotypes that my two young daughters are having to deal with today in America."
On Tuesday, Hillary Clinton said, "I've never wanted to go on his show and I certainly don't ever intend to go on his show, and I felt that way before his latest outrageous, hateful, hurtful comments."
John Edwards made his intentions less specific: "I believe in redemption, I believe in forgiveness…What he said is wrong because it's wrong. It has to be condemned, we have to speak out when people use this kind of language. This is a very serious matter, it should be taken very seriously."
According to CBS, John McCain and Rudy Giuliani have both said they would continue to appear on Imus' show.
In Pennsylvania, a radio DJ was fired for sponsoring a contest in which viewers called in to repeat Imus' poisonous phrase: "I'm a nappy-headed ho."
And at Rutgers, students rallied to protest Imus' remarks, and Mary S. Hartman, university professor and director of the Institute for Women's Leadership, explained to the Home News Tribune why she thought Imus' remarks had touched a national nerve: "I think what (Imus') remark did was to expose the latent anger that we all feel. We are awakened anew to things that we just never paid attention to. I think people are just saying, 'Enough! We're not going to take it anymore!' There is a lot of hope here. Today is the beginning. A celebration of these young women was critically important for us, and to tell the world that this kind of trash radio needs to stop."
Imus on Al Sharpton's Radio show – transcript [nyt]
NBC Drops Imus Show From Its Cable Network [nyt]
Edwards On Imus Spat: 'I Believe In Forgiveness' [cbs]
Obama: Fire Imus [abc]