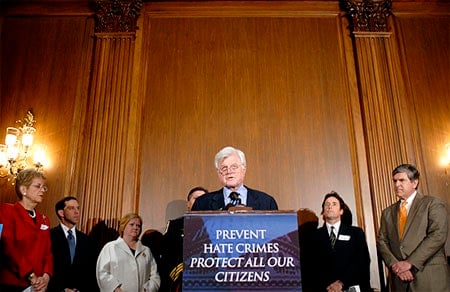 Ted Kennedy, D-Mass., and Gordon Smith, R-Ore, introduced the Local Law Enforcement Hate Crimes Prevention Act in the Senate yesterday, renaming the Senate version of the legislation in honor of hate crime victim Matthew Shepard, brutally slain in Wyoming in 1998.
According to the Associated Press, "The measure would add protections based on sexual orientation or gender identity to existing laws that target violence because of race and religion."

By attaching a name to the legislation, Smith noted, they hope to put a face on victims of hate that will finally get the bill passed. Said Smith: "By putting Shepard's name on the bill, I believe we'll be more successful."
Shepard's mother Judy, an outspoken advocate for gay rights and against hate crimes since her son's death, appeared at yesterday's news conference. Said Shepard: "Dennis and I are deeply honored that Senators Smith and Kennedy have renamed the Local Law Enforcement Hate Crimes Prevention Act the 'Matthew Shepard Act.' This is a beautiful tribute to our son and his memory…I can't think of a better way to honor Matthew's memory. He was a 21-year-old college student just living his life."
Human Rights Campaign President Joe Solmonese spoke of the grave importance of passing the bill: "After eight and a half years since Matthew's death, his memory continues to be a ringing reminder, even at the highest levels of our government, about the need for this legislation. It is our hope that Congress will finally pass the Matthew Shepard Act and Judy Shepard will have stood at her last press conference on Capitol Hill pleading with our elected leaders to pass this critical piece of legislation."
Supporters are hopeful the bill will pass Congress. For ten years, similar pieces of legislation have gone through the House or Senate but have never gone so far as to reach the President's desk.
Lawmakers name hate crimes bill after Matthew Shepard [ap – boston globe]
Senators Kennedy and Smith introduce hate crimes bill, rename it 'Matthew Shepard Act' [hrc] (photo: hrc)