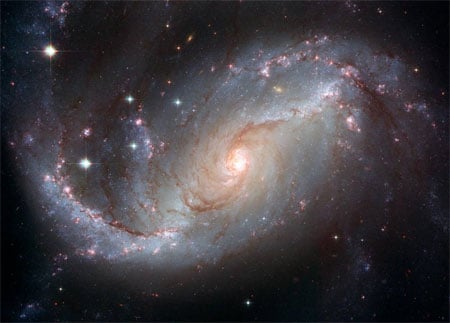 The Hubble Space Telescope has delivered an Easter basket of celestial objects in this stunning view of Barred Spiral Galaxy NGC 1672, located more than 60 million light-years away in the direction of the southern constellation Dorado. Which, in the scope of things, is apparently nearby:
"Clusters of hot young blue stars form along the spiral arms and ionize surrounding clouds of hydrogen gas that glow red. Delicate curtains of dust partially obscure and redden the light of the stars behind them by scattering blue light…Galaxies lying behind NGC 1672 give the illusion they are embedded in the foreground galaxy, even though they are really much farther away. They also appear reddened as they shine through NGC 1672's dust. A few bright foreground stars inside our own Milky Way Galaxy appear in the image as bright and diamond-like objects."
The shot is a composite of observations taken in August 2005, but it was just released Tuesday.
You may have missed…
Saturn Hexagon Takes Rings to the Next Level [tr]
Out of this World: Cassini Sends Postcards from Saturn [tr]
NASA Releases Spectacular Lunar Transit Images [tr]
Comet McNaught Makes an Appearance [tr]