Making a pronounced effort to show that he has the backing of the gay community, Democratic presidential candidate John Edwards released a list of 25 gay leaders on Tuesday, announcing that they have endorsed his campaign.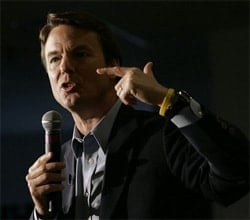 Said Edwards, "They work hard every day to make our country a better place and I am proud to join with them to fight for equal rights for all Americans."
A notable name on the list was the presence of political strategist and activist David Mixner, whose relationship as a fundraiser and advisor for Bill Clinton became strained after Clinton presented his "Don't Ask, Don't Tell" policy and Mixner publicly protested it in front of the White House.
Mixner told me he'll be posting an endorsement of Edwards on his website later today.
Here's the list of gay leaders supporting John Edwards for President:
Skip Paul, Corporate Executive
Darren Star, TV Producer
Julie Johnson, Human Rights Campaign Public Policy Committee Co-Chair
Eric Stern, Former National Stonewall Democrats Executive Director; Former Democratic National Committee LGBT Outreach Director
David Mixner, Former Bill Clinton for President Adviser; LGBT activist, fundraiser, author www.davidmixner.com
Dennis Erdman, TV Producer/ Director
Mary Snider, Human Rights Campaign Board of Directors Executive Committee Member
David Tseng, Kerry-Edwards 2004 National LGBT Advisory Committee Co-Chair; Former Parents, Families and Friends of Lesbians and Gays (PFLAG) National Executive Director
David Mariner, Former Out for Howard Dean Co-Chair; Founder, www.outfordemocracy.org
James Duff, TV Producer
Ramon Gardenhire, National Stonewall Democrats Black Caucus Co-Chair; Former DNC LGBT Deputy Outreach Director
Scott Benson, Majority Leader Minneapolis City Council
Shane Larson, AFL-CIO Pride @ Work National Executive Board Member; Association of Flight Attendants (AFA)-Communications Workers of America (CWA) Government Affairs Director
Scott Wiener, Human Rights Campaign Board of Directors Member; San Francisco Democratic Party Chair* (for identification purposes only)
Jeff Gardner, Garden State Equality Vice Chair; New Jersey for Democracy Co-Chair
Lynne Wiggins, Gay, Lesbian, and Straight Education Network (GLSEN) National Leadership Council Member; Former Human Rights Campaign Board of Governors Member
Ken Keechl, Broward County Commissioner; Former Dolphin Democrats President
Linda Elliott, Human Rights Committee Board of Directors Member
Dave Garrity, Former Democratic National Committee Member
Mark Periello, Former Human Rights Campaign staff member; Democratic strategist
Ron Ginsburg, LGBT Community Activist; business owner
Randall Kelly, LGBT Community Activist; attorney
Stephanie Kornegay, LGBT Community Activist; business owner
Robert D. Horvath, Mautner Project Board of Directors Member
Patrick J. Lyden, LGBT Community Activist; Homeland Security Advisor
You may have missed…
Edwards Campaign to Continue Despite Return of Wife's Cancer [tr]
John Edwards Issues Statement on 'Don't Ask, Don't Tell' [tr]
John Edwards Won't Fire "Pro-gay" Bloggers [tr]
Ann Coulter calls John Edwards a "Faggot" [tr]