Gay families hit unfairly again at tax time because of Federal Defense of Marriage Act: "Each tax season, same-sex couples sit at their dining room tables and are forced to live a legal lie by checking single despite their decades together – arbitrarily dividing up their joint households income, expenses, and dependents. Even in states with domestic partnerships or civil unions, we still have to check single on our tax forms because our federal government doesn't consider us a family."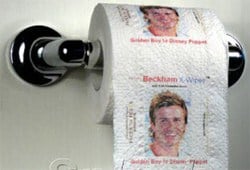 This may be as close to your ass as David Beckham's ever going to get.

Unhostile takeover: the rise of guerilla gay bars.

Former gay Big Brother Australia contestant David Graham dancing by on Dancing with the Stars, thanks to the "gay vote".

Palm Springs committee unanimously approves Rainbow Vision gay and lesbian retirement community…

NYT on sexual genetics: "Desire between the sexes is not a matter of choice. Straight men, it seems, have neural circuits that prompt them to seek out women; gay men have those prompting them to seek other men….Sexual orientation, at least for men, seems to be settled before birth. 'I think most of the scientists working on these questions are convinced that the antecedents of sexual orientation in males are happening early in life, probably before birth,' Dr. Breedlove said, 'whereas for females, some are probably born to become gay, but clearly some get there quite late in life.'"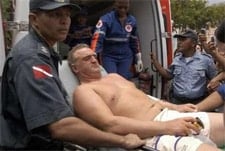 52-year-old Slovenian man swims the Amazon river, covering 3,274 miles in 65 days, battling piranhas, sharks, crocodiles, and pirates. Here he receives aid from Brazilian medics at the end of his record-breaking swim. Here's a swim diary…

And the cat came back, the very next day… Traveling cat rides the bus every day for fish and chips.

Hillary Clinton becomes third Dem candidate, following Obama and Edwards, to pull out of FOX/Congressional Black Caucus debate.